From giant lanterns, dancing lights, towering Christmas trees and colossal figures, tons of beautiful displays will surely bring you to a festive mood.
We all know how bright Metro Manila is at night. However, come Christmas season, the metro's lights become brighter because of holiday decorations that different establishments install.
This season of giving, why not visit some of these Christmas displays in and around Metro Manila? These yuletide attractions are open to the general public for free. In no particular order, they are:
1. Ayala Triangle Gardens, Makati
Each year, Ayala Triangle Gardens (ATG) holds a Festival of Lights where they fill the place with colorful Christmas lights. Thousands of these LED lights were programmed to "dance" and match the medley of popular Christmas songs.
The park is also near the stretch of Ayala Avenue to Makati Avenue, which is also clad with Filipino-themed yuletide displays. The spectacle starts from 6 pm to 10 pm daily, and the light show is played every 30 minutes. ATG's Festival of Lights will be around until January 7, 2018.
2. Ortigas East Christmas Tunnel, Mandaluyong
Most tunnels are dark and gloomy, except for this one. At the heart of Ortigas' business district is the Christmas Light Musical Street Light Tunnel. It boasts intricate patterns from its 2,368 pixilated lights and 13 mini searchlights.
Visitors can walk pass beneath the structure and even take photos. The place is also near the Christmas village along Tiendesitas in Greenhills that has a vibrant night market.
3. Rizal Park, Manila
We all know that Rizal Park is the go-to picnic destinations for many Filipino families; more so this yuletide season.
Since its renovation in 2010, Luneta has been drawing crowds because of its renowned central fountain that features laser dancing lights, pulsating geysers and orchestrated sprinkles. When bringing with your family with you, make sure to go early as the park gets crowded fast.
4. Policarpio Street, Mandaluyong
Policarpio Street in Mandaluyong is perhaps the jolliest community in the metro. Each year, residents here decorate their houses with thousands of vibrant lights creating a literally "Christmas Village."
Some homeowners also add music to match the theme of their decorations. While the street is quite short, the attractions are numerous and utterly spectacular.
5. Bonifacio Global City (BGC), Taguig
BGC is one of the most active central business districts and leisure destination in the metro. This season, the place is merely screaming of Christmas at every corner with its larger-than-life displays and dazzling lights.
Uptown Mall has a 50-foot tall teddy bear on top of their building. You can also head to Bonifacio High Street Amphitheater to witness their cheery Christmas display. The area has even tons of stores where you can dine and shop.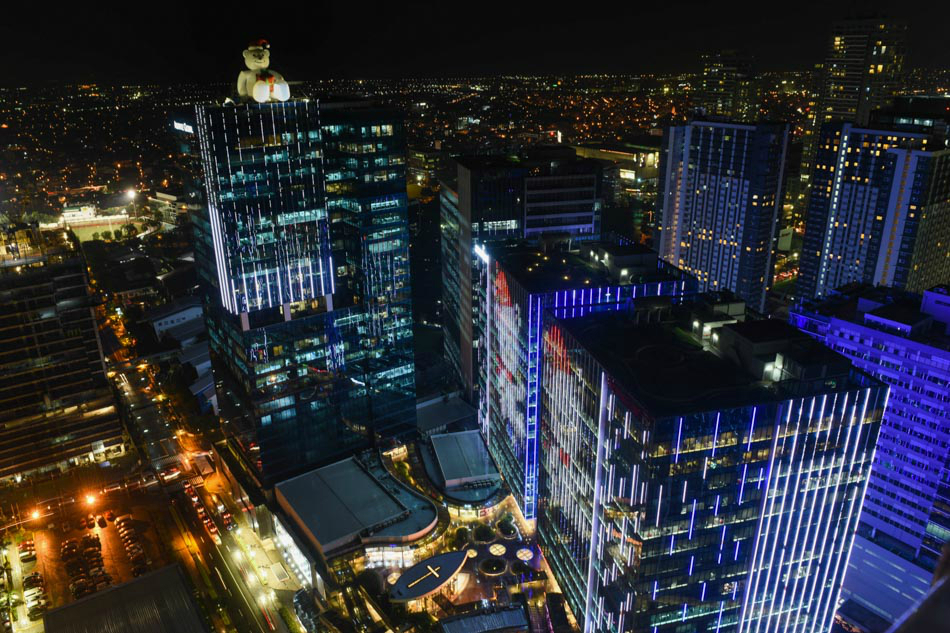 (Image via ABS-CBN)
6. Ayala Malls Vertis North, Quezon City
Ayala Land, Inc.'s newest multi-purpose complex is spreading the holiday cheers to northern residents of Metro Manila. Their Vertis Northern Lights is almost similar to Makati's Festival of Lights and also make use of Filipino tradition-inspired displays and sounds.
Its centerpiece is a giant Cathedral, which is made up of thousands of twinkling pixel lights and is quite thematic with the concept of "Simbang Gabi." The light show lasts from 6 p.m. to 10 p.m. daily and is played every 30-minute. It will last until January 8, 2018.
7. Quezon Memorial Circle, Quezon City
For residents of northern Metro Manila, Quezon Memorial circle is the go-to place for recreation. This season, the park is transformed into a Christmas destination complete with dancing fountain and the Circle of Fun amusement playground and Christmas bazaars.
The iconic marker is also quite a sight to see when cloaked with vibrant lights. The "Circle" is definitely one of the best picnic destinations where you can do outdoor activities like biking and boating.

(Photo Credit: Elaine Ross Baylon)
8. Greenfield City, Mandaluyong
While Greenfield is generally known for its weekend market, nearby residents and workers in Ortigas CBD can enjoy the place's holiday attractions. Aside from tons of diners and food stalls, visitors can also enjoy the location's numerous displays that heighten the yuletide atmosphere.
The centerpiece of the exhibit is a 40-foot Christmas tree. You can also shop for gift items on their European styled flea market.
9. Marikina River Park, Marikina
When you just want to unwind and be with nature at the same time, then there is no better place in the Metro than Marikina River Park.
While the area is a popular recreation site and has numerous "tiange" stalls, come Christmas it transforms into one of the brightest places in the north. It's also one of the few places where you can enjoy good old carnival rides. There are also dozens of bazaars and diners to complete your meanderings.
(Image via Tupanggala.com)
10. Nuvali , Sta. Rosa, Laguna
If you are someone from south of Metro Manila or perhaps just visited Taal, don't miss the chance to drop by Nuvali. The place's 3,600 square-meter eco-community field has been transformed into the Magical Field of Lights.
The main highlight is the field of thousands of colorful tulip-shaped lights that dances to some of the popular Christmas songs and carols. There is also the 50-meter long "tunnel of lights," vibrant LED Christmas trees and glowing light spheres. The display starts at 6 p.m. and ends on 10 p.m., with a light show every 30 minutes. It's on-going until January 7, 2018.
Christmas happens only once a year, and you don't need a lot of money to enjoy this joyous season. Just spending it with your family and the people closest to you is enough to make it worthwhile. And never forget, the reason for the season. Merry Christmas, everyone!
Do you know of any place that has incredible Christmas light displays other than the ones on the list? Have you visited any of the sites as mentioned earlier? Share us your experience by dropping a comment below.